Professional Countertop Fabricators Company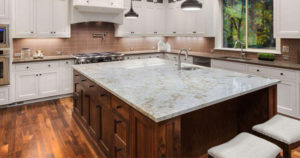 Granite Artists is proud to be a leading granite countertop fabricators company in Plano, TX. With over 15 years of expertise, we provide superior stone products and services for the entire Dallas-Fort Worth metro area. 
Our beautiful granite, quartz, and other stone slabs can transform your kitchen, bath, patio, or garden project. Let us help you realize your vision with the finest quality stone and expert workmanship. 
Quality Stone Products 
We offer an enormous variety of stone products; since we partner with KLZ, a provider of premium slabs in the DFW area, we have over 30,000 slabs from which you can choose. 
Browse a wide range of stone types, colors, shades, textures and thickness. As you consider your options, bear in mind that different types of stone have particular characteristics. Our most popular options include Granite, Quartz, Marble.
Granite: Beautiful and durable, granite is among the hardest of stone surfaces, and thus is a great option for high-use applications. It is scratch resistant, heat resistant, and with proper sealants is also stain resistant. It comes in many natural colors; some granite slabs have large "waves" of color, providing a unique, one-of-a-kind beauty to your project.

 

Quartz: Quartz is an engineered stone which is also one of the most durable stone products we work with. Since it is a manufactured product, a wider range of colors and finishes are available in rich, even tones. Quartz combines the beauty and durability of natural stone combined with the low maintenance of an engineered product. Quartz often gives a more contemporary look many homeowners look for.

 

Marble: Marble offers a classic, timeless beauty in a brilliant white that is not available in other types of stone. The downside of marble is that it is a relatively soft and porous natural stone that is prone to scratching and staining. Still, many homeowners appreciate the patina that develops over time.

 
See your many stone types, colors, textures and more options in our slab selection area. 
We also have a wide selection of remnants. Remnants are an affordable alternative for smaller projects such as a bathroom vanity or a kitchen island. Remnants are the same high quality as our slabs, but because of their smaller size the price is lower. Browse our current remnant collection. 
Professional Design and Craftsmanship 
With such an extensive selection of stone options, it can sometimes be difficult to decide which is best for your particular project. For example, some stone types are better suited to a particular application. Our extensive knowledge and experience can help you narrow down your options; we work with our customers to understand their vision for a project, then educate them about the best options available to them. 
After browsing our stone catalog, we advise our customers to see the stone in person if possible. Variations in color and texture make each slab unique, and lighting can also change the appearance of the stone. 
Once you have chosen a slab, our professional service providers will precision-cut your slab to exact specifications using advanced digital technology. Installation is performed by our experienced and knowledgeable technicians who will treat your home with respect and care. 
Contact Granite Artists 
To see what a quality granite countertop fabricators company in Plano, TX like Granite Artists can do to help you transform your kitchen, bathroom, or patio call us at (469) 251-1118 or fill out our contact form today. We're looking forward getting started on your project!