Bathroom decoration with granite tile floors
Granite flooring certainly brings about an elegance to a room. The natural stone gives a bathroom an instant upgrade. While a granite floor does stand out, the rest of the bathroom design plays an important role in enhancing the collective look. After all, granite can do a lot for a room, but if it is surrounded by outdated, unmatched fillings, you won't be maximizing the look of your brand-new floor. Here are some ideas for decorating your bathroom after installing granite tile floors.
The major items
If you are committing to a complete bathroom overhaul, there are major pieces that you will need to pay attention to. You already took care of one major piece (the flooring), but cabinets and countertops are the next items to review.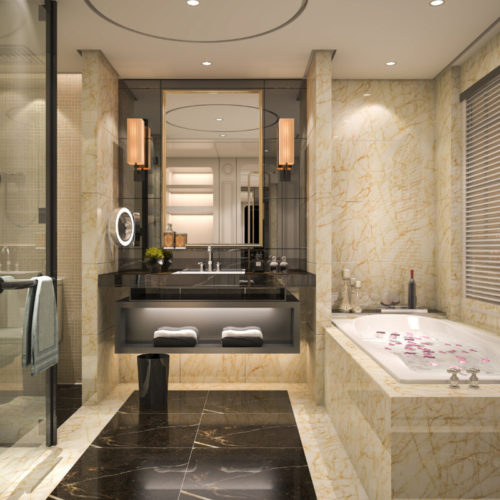 Cabinets practically always come in a wood form, but what shade of wood will work well with your granite tile floors? Typically, solid brown cabinets work very well with black granite. Black cabinetry compliments grey granite and light brown cabinetry compliments tan or light grey granite. When shopping for new cabinets, take a sample of your granite floor with you. This will give you an up-close look as to how the two will match and it will help you envision the combo.
Countertops can be tricky, as there are many options available. On the cheaper end, laminate countertops match well with granite tile floors. Specifically, a dark grey laminate. On the more expensive end, a different stone type can be an outstanding countertop option. For example, limestone, travertine or marble. Again, you'll want to compare flooring to countertop options. Granite floors can match with granite countertops; however, you risk having too much granite.
Fixtures
Regarding fixtures, you might not have to change too much. White generally goes very well with all granite floors. Assuming your toilet, tub/shower are white, you can likely keep those where they are. As a result, you'll save money and stress pertaining to those specific fixtures. You can get creative with a shower, but that one is really up to you.
Remaining fixtures, such as lighting, faucets and towel holders are easy to update. Any conservative, solid-colored versions of these should match well with your granite floor. Each item is subtle, but each does play an intricate role as the finishing touches to your bathroom remodel.
Accessories
Accessories are fun and flexible. The good news is they are more so replaceable than any other aspect of a bathroom. Therefore, there is less pressure when purchasing accessories. Rugs, shower mats, towels…all interchangeable.
Grey rugs coincide well with black granite. Vise versa, black rugs will look good with grey granite. Lighter granite opens the bathroom up to lighter accessories. For instance, lime green or light blue mats or towels can beautifully compliment a tan granite tile floor.
At the end of the day, do it your way
Ultimately, it's your house and your bathroom. Make it the way you want! You and your family will be in the bathroom most frequently, so make it appealing to you and your family. The above tips and guidelines help with your vision, though, your preferences and opinions are going to make you most happy and satisfied with the completed effort.
If you need help executing your vision, Granite Artists is here for you. You can purchase granite tile floors and countertops from our store. We'll also install it for you. Contact Granite Artists today! Also, visit our blog for additional helpful information.