Dress Up the Kitchen for the Holidays
For many homes, the kitchen is busier than ever during the holiday season. With family and friends in and out of your home, it's hard to keep your kitchen neatly decorated for the holidays. Here are some fun tips for getting a bright, joyful look while keeping your counter-tops clutter free.
Vases
Granite and natural stone counter-tops complement decor with a very elegant feel, so if these are your counters you're off to a great start! Granite gives a luxurious, grandiose allure to any size kitchen. To give your counter-tops a little sparkle of holiday cheer, try adding a few glittered seasonal vases or a small string of twinkle lights in or around decorative vases.
Holiday Drinks
Wine and cocktail glasses are a fun way to add festivity and class to your kitchen space. Start by setting up a tray with a drink station in the corner or bar area of your counter-top. Holiday glasses with wine charms or trinkets and garland can bring a homey welcoming feel to your visiting family and friends.
To the Window and the Wall
By focusing on the window and wall decor, you can add a lot of personality without sacrificing any kitchen space. Popular trends now include woodland themed silhouettes of deer, or simple scenery artwork. Even just one small collage of 2-3 winter pieces can make a gorgeous display to show off your kitchen and counters.
A Little Flame
Don't forget the candles. Nothing adds warmth to a space like a candle display. A great way to complement a natural stone counter is by using earthy tones and materials, so think pine cones, holly, or garland surrounded by candles on a wood tray. When you decorate a heavily used area focus on less is more and look for elegant pieces that add a lot of flair in a little bit of space.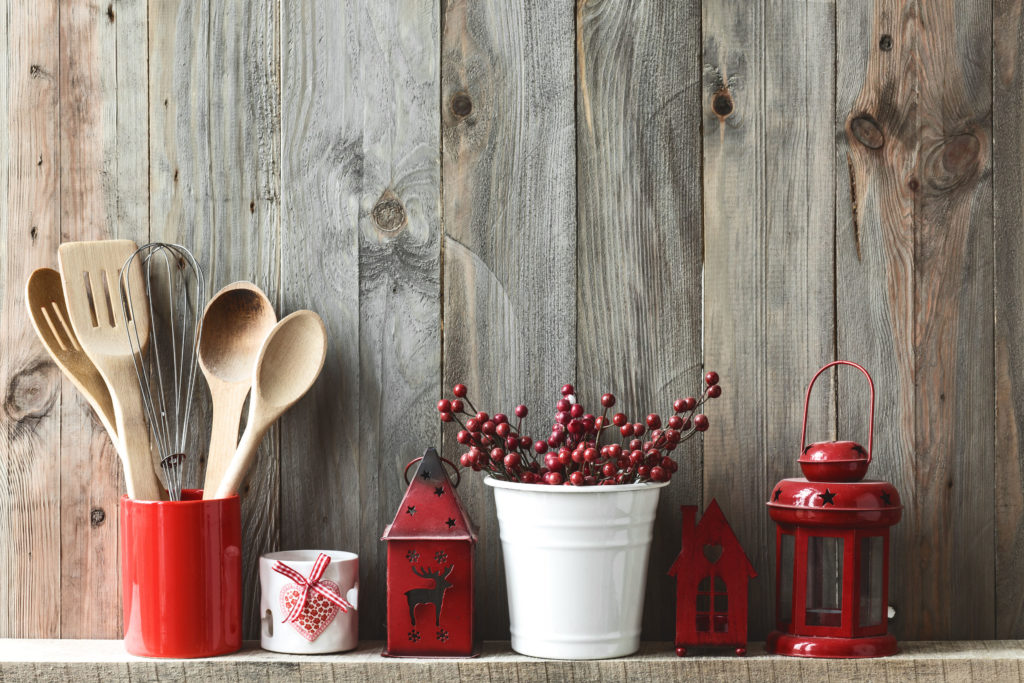 A Final Tip
By decorating on a tray with any of these tips listed above, it's easy to relocate the decor when you need counter space for cooking or a buffet line, and it can instantly become a centerpiece for your table. There are many options for when you decorate for the holidays. Choose decor that coordinates well with your style, and the color of your counter-tops and kitchen. You should also keep in mind the size of the space you're decorating and remember that less is more. Most importantly, give it personality. Use your kitchen to express your holiday cheer.
Contact us if you have any questions on how you should spice up your counter-tops! Be sure to browse through the rest of our blog to see more helpful tips.