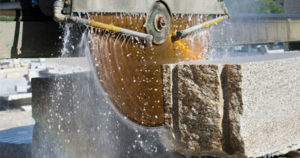 Granite counter tops have become very popular in the past few years. They are a beautiful addition to any kitchen, bathroom, or outdoor space. However not all granite is created equally, so it important to work with a company that has your best interest at heart. Granite Artist will make sure you select a granite that will fit the room's purpose and fit in with the room's décor.  
A number of factors are considered when selecting the correct stone to use in your granite countertop. The process is called fabrication and requires the services of a stone fabricator. When you work directly with our Granite Artists Granite Fabricator it saves you time and money by giving you direct access to obtain expert guidance. From stone selection to installation we are professionals who will make sure you get the very best granite countertop for your needs. 
What do I need a Stone Fabricator for? 
A stone fabricator will help you by: 
Assisting in selecting appropriate material for your kitchen, bath, or other counter top.
They will take proper measurements for the installation project.
Helping you to select the right materials by explaining the Stone's strength and durability
They will point out the highlights of the stone (color, veins, shading and so forth) and explain how the stone willtransform from an ordinary looking stone into a beautiful granite counter.
What is involved in the Granite Fabrication Process? 
Final inspection is made for fissures, seams, scratches, and so forth.
The stone is cut.
Special edging designs are cut or filed down.
Drain boards and/or support rods are installed.
The surface is smoothed and made shiny with grit polish.
Final installation includes washing and drying the stone, putting it in place and applying a sealer base.
Locating a Stone Fabricator 
Naturally, it is important to find a stone fabricator who is licensed, certified, and experienced. Located in Plano, Texas Granite Artists has been proud to provide this service to our many satisfied customers.  
When you choose us, we will be with you every step of the way. We make sure that you have countertops that not only hold the correct overall structural integrity and density, but will also make sure that your installed granite counter looks beautiful in your home. 
Contact Granite Artists today 
At Granite Artists we offer only high-quality products and superior installation. That combined with our professional fabrication process provides an outstanding result.  
If you live in the DFW area, and would like to learn more about the beautiful granite tops we offer, give us a call at (469) 251-1118 and we will be happy to discuss our services and how we can help you with your project.