Why Choose Granite & Stone Countertops?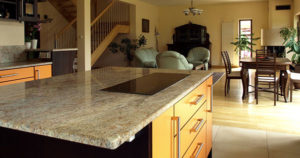 Your kitchen is the center of your home. You want it to be beautiful. You also want your kitchen to be functional. Every single area of the kitchen should look great and make it easy for you to cook. The kitchen should also help increase the resale value of your home. When considering the details, it's important to think about how it all fits together. One of the most important areas in your kitchen are your countertops. Countertops helps pull the entire kitchen and provide a unified theme for the space. This is why so many people think carefully about the kind of countertops they want.
Your Options
Many kinds of countertops are available. One of the most popular are granite & stone countertops Plano Texas. Using granite and stone has many advantages. For one thing, these are all natural materials. This means they aren't created in a lab. Instead, they are taken from nature and then used along with other natural materials like wooden cabinets. Granite is taken from quarries where it is mined using age old techniques that have been in place for centuries. Each slab is carefully cut by skilled technicians who know how to preserve the grain of the stone. After that, the stone is brought to a company site. Each slab will be carefully honed and polished until it is ready to be sold. The stone can be any size the homeowner wants, making it easy for them to have custom built countertops that fit precisely on top of any kitchen cabinets.
Many Colors
Another advantage of choosing granite & stone countertops Plano Texas is that the homeowner will find many potential colors to pick from. Natural stone comes in many kinds of colors including brown, green, white and grey. Any homeowner can take advantage of this fact and find countertops in a color they like. A slab of granite can also be used as inspiration for the color scheme in the kitchen. For example, the homeowner might love a slab of brown granite with elegant flecks of shimmering lighter colors. They can use this stone to help inspire colors for the rest of the kitchen and create a pleasing color story.
Other Advantages
Stone and granite are not only all natural and beautiful. They are also highly durable materials that will last a long time. Both materials are also green materials, meaning they come from nature rather than being made up in factory. Each material also pairs beautifully with other types of material like wool and metal. Watching the subtle tones of granite as they change is something elegant that makes cooking even more enjoyable. Granite and stone are ideal for use in a kitchen where the aim is luxury. Like high end appliances, granite and stone are appropriate for a home where high style is in favor and great care has been taken with all the details. Any homeowner can benefit from using granite and stone countertops.