Factors You Need to Know About Finding the Right Granite Fabricators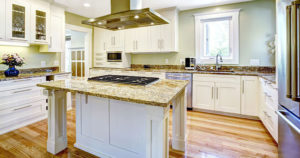 A granite fabricator is a person who turns a slab of marble taken from a quarry and produces a piece of granite. A granite fabricator also shapes and polishes slabs of stone and granite. After the granite fabricator finishes their job, they then send the piece to the customer or a third party for installation. Read this article for information on how to find the best granite fabricators.  
How to Find The Best Granite Fabricators 
 There are many things to look for when you're trying to find the best granite fabricator. First, you'll first need to know how long the granite fabricator has been in business. A granite fabricator who has been in business for a long time should be reliable, trustworthy and have satisfactory work. 
High-Quality Work. You'll need to find out if the granite fabricator does high-quality work. Most people don't know what quality installation looks like. Quality issues may or may not be obvious. A high-quality contractor will share this information with you.
Please click this link to determine how to look for high-quality installation and fabrication.
Fabrication & Installation. Ask the contractor if they perform fabrication and installation. The two skills for required for these activities are different, but having one contractor or company perform fabrication and installation will ensure that you will not have any issues.

 

Visitation.  Before you hire a granite fabricator, be sure that you can visit them. You don't want to hire someone you've never met.

 

Facility.  It's best to hire a contractor who has a facility. Their facility should have an inventory of stone, and they should have a showroom with examples of their work. You can even research their facility on the internet to read reviews from people who've previously hired them.

 

Warranty.  A good granite fabricator should offer a warranty. You'll want to get a list of references' you can call.

 

 

Knowledge. A good granite fabricator should be able to educate you about natural stone and granite counter tops if you ask. The granite fabricator should also be knowledgeable about proper stone care. Most contractors' are misinformed about proper stone care. It's a good choice to find a granite fabricator who knows how to properly care for granite.

 

Pricing. You should compare prices between two or more granite fabricators. You'll first need to choose contractors' you'd like to hire, and ask them for the best price. It's important that you educate yourself, and spend time visiting contractors' before making your decision. Determine the quality of their work, and choose a granite fabricator you feel most comfortable with. Afterwards, you'll need to negotiate pricing. Remember, granite counter tops are an investment.

 
Final Words 
We're high-quality granite fabricators' and installers' located in Plano, Texas, and we serve 18 other areas in the state. We have a facility with an inventory of stone and a showroom of our work. Feel free to visit our website for more information.