Know your Ideal Granite Color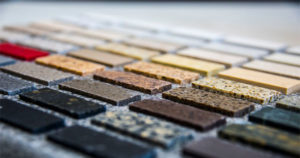 Granite is a beautiful material. Used in kitchens and bathrooms, granite helps provide an upscale look to any space. When looking at this type of material to use in their home, many home buyers wonder what is the most popular granite colors. Granite comes in many varied colors. It's easy to find the color the homeowner wants. Large granite slabs take up a lot of space in any room so the color of the granite helps set the color scheme for the rest of the room. A well chosen slab of granite with the right color can help set the tone for the entire space and create unity at the same time. Using granite is a great way to add color to any kitchen space.   
Darker Colors  
When wondering what is the most popular granite colors, darker colors are indeed some of the most popular granite colors. Granite is available in shades of dark brown and black. These shades lend an air of drama to any room so homeowners find themselves drawn to them. A slab of granite in a dark shade of brown also helps the kitchen or bathroom come alive with color. Darker granite colors are ideal in spaces that need some oomph. A large slab in a dark shade of emerald green is the ideal way to help create a kitchen that gets attention the second you see it. Dark blues and deep reds are also popular for this reason.  
Lighter Shades  
While dark colors for granite are highly popular among those customers who are discerning and look for granite with lots of flair, lighter colors are also popular. A light shade of granite in a soft beige can help any bathroom feel full of light. White granite is also popular as it helps bring in additional light while also adding a classic look to the room. Many buyers love granite in a soft shade of grey. Gray makes an ideal shade in the kitchen. This shade can help set the stage for other kitchen elements such as stainless steel appliances and wood floors. Lighter shades are popular in smaller kitchens as they add heft and yet help open up the room at the same time.  
Subtle Coloration  
Any home owner should aim for countertops with subtle coloration. Look for a true balance of light and darkness. In a kitchen that has lots of light, using dark granite countertops helps bring in lots of lovely color and helps the kitchen look modern and updated at the same time. A smaller kitchen may benefit from the use of granite in a subtle shade of bronze or grey blue. It's a good idea to consider all the colors in the room including the colors on the window shades and the colors of the flooring. Think carefully in order to help create a space that has a sense of unity. Well chosen granite slabs in an elegant color can offer many benefits any space.