With the many DIY Flip programs on the internet, people are becoming more aware of the different types of kitchen and bathroom countertop installations available. If you live in the area of Plano TX, we, at Granite Artists, are proud to present top of the line options for a kitchen remodel or a bathroom remodel, like quartz and granite
BEST MATERIALS ON THE MARKET: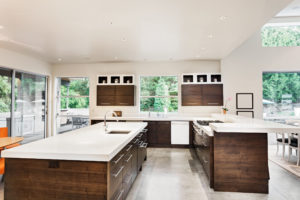 Quartz
Quartz is one of the hardest of earth's minerals, which makes it very durable. Prior to being used for countertops, it is ground and combined with pigments, polymers and resins. This makes an extremely hard material that is nonporous and resists stains from things such as tea, coffee, and other liquids that can be damaging to ordinary countertops.
Because of their hardness, this type of countertop is resistant to cracking and/or chipping. Available in grays, earthy browns, and vivid colors, the finish can also be customized from matte to highly polished.
Granite
Predominate colors of granite are white, gray or pink. Formed inside of a volcano, it is an igneous rock that is tough and hard, making it an ideal choice for a countertop. Granite is exported from countries around the world and is also found in the United States. The cooling of this volcanic material is what forms the textures and various colors found in this stone.
Chicago is one of the locations in the United States that produces granite. This particular granite shows a higher record of hardness and durability and is more resistant to scratches and chips than other types of granite material. Although it must be re-sealed every two years, in between it can easily be cleaned by using a damp cloth.
Because of its ability to resist heat, scratches and cold, granite is the choice of pastry makers and homeowners alike for their kitchen counters. In addition, its durability, hardness and natural resistance to weathering also makes it an excellent choice for outdoor use.
What We Do
At Granite Artists, we assist our customers in selecting the right type of materials for their kitchen counters and/or bathroom counters. We understand how important it is to have an attractive kitchen remodel or bathroom remodel that will not only be long lasting but will add additional appeal to the overall look of the area, like quartz or granite.
When you contact us for assistance we assign an artist who will explain the type of materials we handle. In addition, he or she will offer various suggestions, and designs, which will allow you to choose exactly what you are looking for. You can be assured that whether you choose quartz or granite, you will receive first-class materials.
As a licensed and certified company, we are well known in the Plano, TX area and invite you to visit our showroom to check out our vast selection of quartz and granite. We also invite you to visit our website to read reviews from our satisfied customers.. It is our goal to furnish our customers with the very best countertops on the market.