Why Choose Granite for Your Kitchen Countertops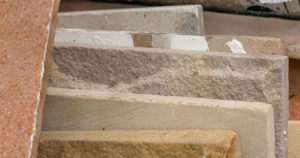 During the course of your kitchen remodeling project, you will be asked to decide on a material for your kitchen countertops. For many homeowners, the choice is between granite and stone. You may be wondering which type of material is right for you and why granite is better than stone. The answer to that question is detailed but important. If you understand why granite is better than stone, you'll understand why it makes sense to use this material in your kitchen design plans. You'll have a look that is elegant, yet durable, timeless and modern at the same time. You will also have kitchen countertops that will immediately appeal to buyers should you decide to sell your home. A small investment now can pay off in a more functional kitchen.
Durable and Scratch Resistant
Cooking requires the use of lots of varied material and heat. You want to have countertops that can withstand all you do in the kitchen from baking batches of cookies, to reducing a sauce, to preparing a meal for ten people at the same time. Granite is one of the most durable materials on the planet. When properly cared for, your granite countertops will last for many years. In contrast, stone is less durable. It can crack or even break more easily. Granite is also scratch resistant. You don't have to worry that you might accidentally drag something sharp across your countertops and mar them forever. However, stone can easily be scratched so you will have to watch yourself carefully when you're in the kitchen. A single slip can create huge problems.
A Unique Look
Unlike stone, granite is entirely unique. Each piece is different with different colors and flecks inside of it. The pattern differs from piece to piece, making it special and helping the granite to stand out against the other items you've put in your home. Many homeowners love having something in their homes they can't get anywhere else. They love having a piece in their home that says to the world that this is a one of a kind space that can be found nowhere else. If you want a kitchen that is entirely your own, granite is definitely a better choice than stone.
Less Expensive
Another important advantage of using granite is that it is often less expensive than stone. Stone is heavier than granite. This means that it will cost more to transport it to your kitchen. It also means that it will cost more to place it in your home as specialists must be brought in to help lift it into your kitchen and then place it on top of your cabinets. Such costs can really add up and make it more expensive. Granite, in contrast, is both natural but also lighter than stone overall. Granite is also found in many parts of the country. This means it can be brought from a local quarry right to your home without a problem.